The World Without Proofreading #39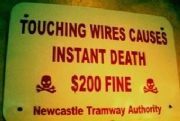 If you're going to ruin all the fun with your outrageous fines, then I'm going to take my nude, wet, wire-touching dance elsewhere.
Want to avoid embarrassing errors? Contact us to learn how we can help you.
Have you seen a funny proofreading error? Send it to us.