Proofreading Rates: What to Expect
This post is about proofreading rates within the proofreading industry. ProofreadingServices.Us' low rates are available here.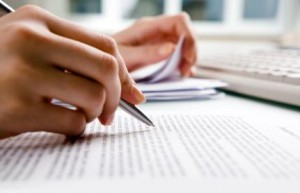 Proofreading is an important step in the publishing process and is essential in order to produce high-quality material for publishers, companies and end users. A number of companies offer professional proofreading services for authors and publishers. These services may include copy editing and fact-checking as well. Generally, companies that focus primarily on proofreading, like ProofreadingServices.Us, offer faster turnaround times and charge lower rates than those that provide a larger range of services. Proofreading rates are assessed in a variety of ways including by the word, by the page, by hours worked or custom rates determined by the quality of the initial submission. Most companies charge an additional fee for rush delivery of proofreading jobs. Incidentally, ProofreadingServices.Us never charges extra for rush jobs.
Services Provided by Proofreading Companies
While proofreading may seem like a straightforward process, it can become challenging and time-consuming in certain circumstances. Proofreaders must make a number of decisions and perform significant research when proofreading certain types of copy, including materials translated from foreign sources, copy that is difficult to understand or that includes numerous word usage mistakes, documents with awkward sentence structures and highly technical materials. These materials may require additional editing and translation services. While a number of proofreading companies do offer these services, they are typically offered at a higher rate and are not considered to be simple proofreading tasks.
How Proofreading Rates are Determined
While each company sets its own rates for proofreading jobs, generally companies offer clients a variety of rate schedules depending on the difficulty of the task and the length of the material to be proofread. Some companies and individuals charge their clients for the hours worked on the project; depending on the proficiency and speed of the proofreader, this may be far more expensive than projects charged by the page or by the word. One advantage of per-word or per-page proofreading rates is predictability; companies know beforehand exactly how much their proofreading project will cost and can plan accordingly.
Selecting a Proofreading Company
When choosing a proofreading company, reputation and accuracy should be major elements in the decision-making process. Most companies can provide references and samples of their previous work, which may prove helpful in determining the company's qualifications for the project. Additionally, it's generally advisable to choose a company that charges per-word proofreading rates, since this will eliminate any unpleasant surprises when the bill is delivered. The quality of the finished product is the most important factor, however. By selecting a proofreading service with an established reputation and fair billing practices, companies can ensure that their printed materials are free of errors and of top quality.